I have run across numerous Mennonite's out here and wow, hard to get a conversation started with them. However, there were two brothers out with their wives and infants out for a long hike and one of them dropped a baby blanket. I found it, put it on a branch so it stayed dry in case the owners came back. A few hours later I caught up with the owners, told them what I did an they thanked me but said it was too far to go back.
We ended up leap fogging each other a few times and eventually I saw them again at a state park where they were ending their hike. I came out of the restroom (I've come to appreciate indoor plumbing) and was successful at getting a conversation started. After a few minutes the women folk took the children away and it was just me and the two brothers.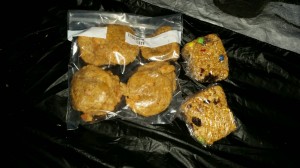 We chatted about loads of things and before I walked off, they offered me their leftover food…wow, good stuff it was, oatmeal butterscotch cookies and some type of crispy rice with coated chocolates…needless to say, I savored them that evening around a campfire with some cool folks from eastern PA. . It was a great day!