What am I doing?
I plan to hike about ¾ of the Appalachian Trail, from the Connecticut/Massachusetts border to Springer Mountain in North Georgia. In total, about 1,500 miles, about 4 million steps and the equivalent of climbing Mt. Everest from sea level to summit about 12 times with all of the elevation changes (sounds impressive, eh?).
Why am I doing this?
There's a few reasons for doing this but the main ones are that I felt very strongly that I needed to go on another adventure (it had been way too long!)…maybe it was the way the bathroom lights reflected off my gray hairs, but something told me that if I wanted to do something this physically demanding, sooner was better than later. I imagine that during this journey I will also have time to contemplate the nature of the universe and why we're here so those thoughts could occupy the time between scratching bug bites and running from bears…
What's my schedule?
The average person walks about 15 miles per day once they are in "trail shape"…so that will be my goal, about 15 miles per day. If all goes well I should finish the trail sometime around January 1st 2015. My start date is 2 September 2014.
What gear am I taking (everyone really just wants to know if I'm bringing a gun!)?
This is my gear (yes, I'm a gearhead!) and no gun…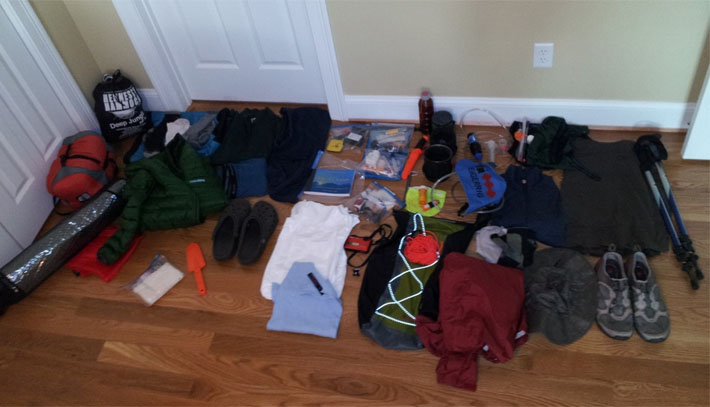 What happens once I finish?
That is the great unknown…part of this journey is to figure out what I'd like to do going forward…
Can you get in touch with me?
Yes, I will turn on my phone every day or two…text messages are probably best but I will have email as well.
What will I eat?
There is a town about every 2-5 days off of the trail…most people, once they get into their rhythm stop about every 4 days, have a shower, spend a night in a hostel and resupply before heading back out. I don't plan on staying in any hostels but that may change…certainly if the weather is going to be severe I will hop off the trail…